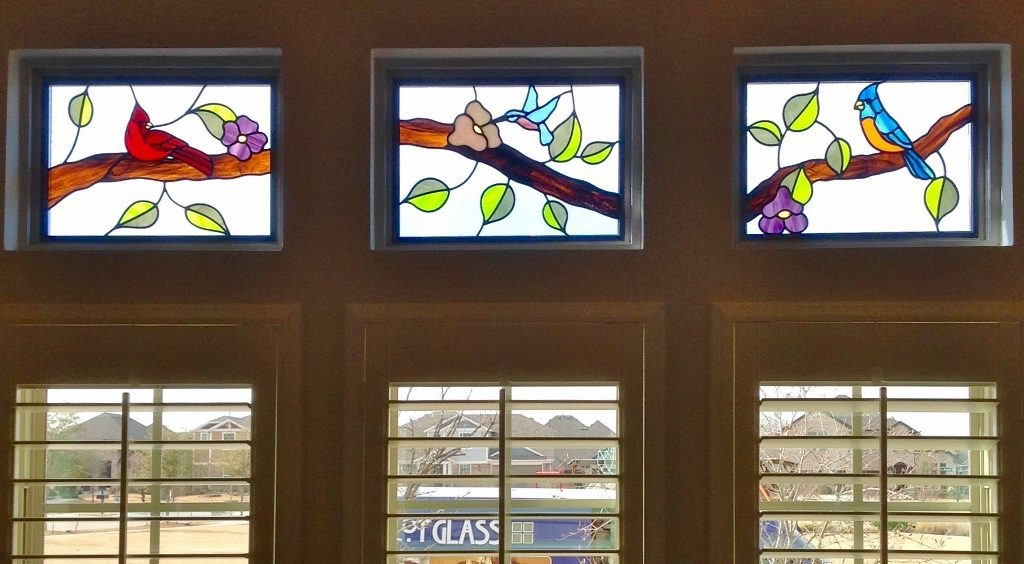 Scottish Stained Glass is expert at crafting custom stained glass solutions for all of your awkward or hard to design spaces.
In many homes there are odd shaped windows which are difficult to cover and thus limit the privacy which our clients may feel as they walk around the inside of their own homes.  Often these windows cannot be tastefully covered with window treatments because of their location.
Such cases are perfect custom stained & leaded glass.  This client was specifically worried about how these windows exposed the exit from their master bedroom directly to their neighbors.  The nature of this staircase and their design aesthetic restricted them from covering the windows with blinds, shutters or drapes.  They came to Scottish Stained Glass after being referred by a friend.
We designed 3 custom stained glass windows that met their needs perfectly, complimenting some of the existing design elements in their wrought iron stair case and metal lighting fixture.
In this particular case there was also a challenging design element with the curved walls of the hallway.  However, our talented designer was able to overcome this by adding curved, beveled pieces of glass and curved corner treatments which perfectly complimented the shapes of the wall, staircase and handrail.  These windows were shipped ready for a simple installation process.