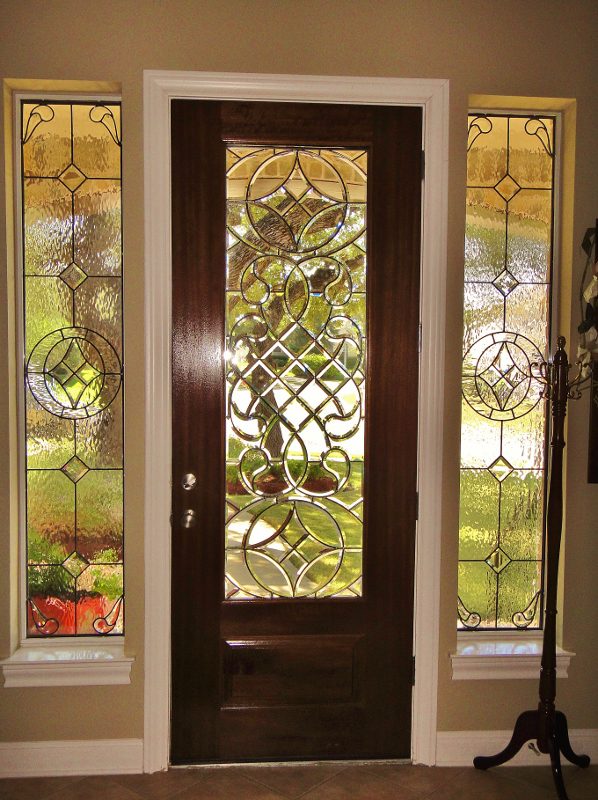 Entryways provide a good opportunity to make a great first impression on your guests. Beautiful stained glass in your front door can provide privacy while simultaneously improving the security of your home and family.
Scottish Stained Glass owner Martin Faith and designer Barb Timmons visited the Stimpson family in Highland's Ranch to help beautify their entryway.  They were preparing to sell their home and wanted to create a great first impression for potential buyers. The leaded glass that Scottish installed for them went over so well that as soon as they completed the purchase of their new home, they called again.
In their new home we completed a number of windows all across the house. In addition to completing the new entryway, we also added interior doors to their study and master bedroom.  Upon the completion of these projects they also asked us to help brighten a long dark hallway.  While not a typical application of leaded stained glass it facilitated the entrance of more light into an odd area of the home.
The Stimpson home is a great example of how the addition of beautiful stained glass can create extra value during the process of selling your home. Their second home is a good example of how a few well placed custom leaded glass windows can be very effective at introducing more light into your home while ensuring your family's privacy for decades to come.