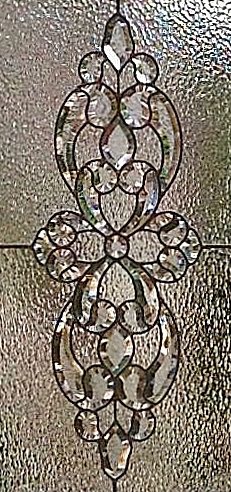 While custom stained glass windows are a collection of multiple glass colors, textures, and shapes, the most beautiful parts of almost every window are the bevels.  Beveled glass is generally a 1/8th inch thick pieces of glass that is ground and polished in a manner that creates a prism effect with the light.  This refraction of the light creates beautiful combinations of color and texture that glow in both direct and indirect light.
Often when creating windows we design or choose our bevels before we begin any other part of the process.  These glass bevels can be flowers, butterflies, abstract patters, or even impressionist like renderings of people or places.
While bevels are used in both clear and colored glass windows, we most often used them in our clear (leaded) custom stained glass windows.  While the glass textures functionally obscure the inside of the home to anyone from the outside, it is almost always the beveled pieces of glass that make your family and friends say WOW upon seeing your new customs stained glass.
Contact us today if you have any interest in seeing our ideas for custom stained glass in your home or office.  We specialize custom designed entryway stained glass, sidelights stained glass, stained glass doors, bathroom stained glass and much, much more.  Call us today for your FREE design consulation.  1-866-846-5758 or email us.