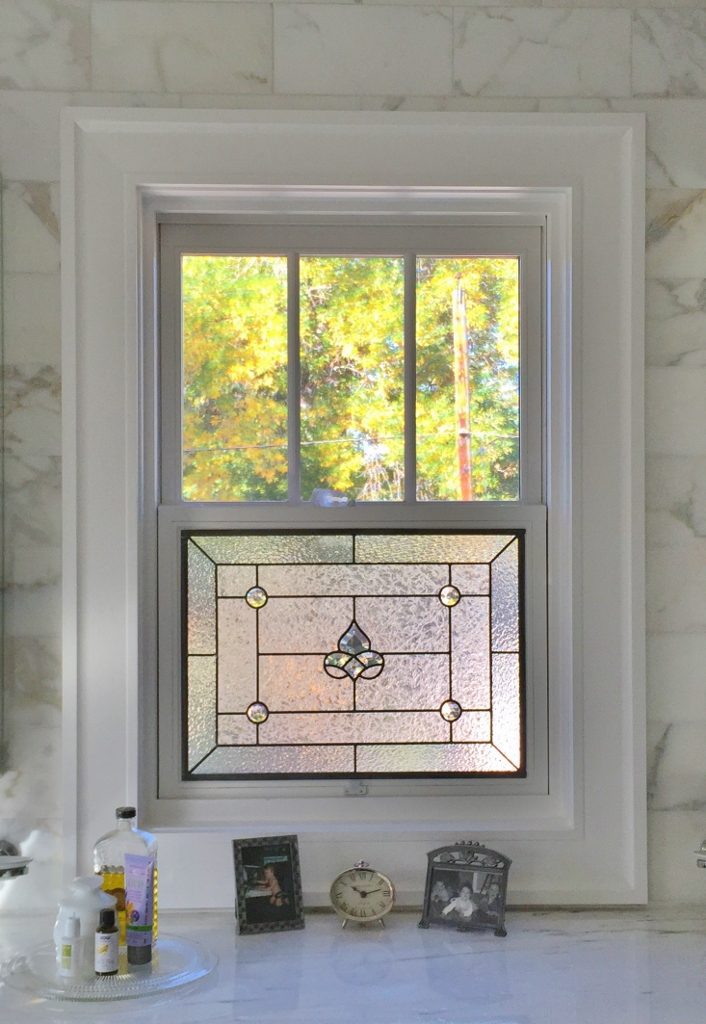 A custom stained glass project for your bathroom? The height of self-indulgent luxury, or a home improvement investment that adds real value, aesthetic appeal and practicality? Here at Custom Stained Glass by Scottish Stained Glass, you know which one we'll pick.
Allow us to convince you!
Bathroom stained glass can not only add privacy to your bathroom windows, it will create a work of art out of the perfectly ordinary windows in your bathroom. Many of our clients have stained glass installed specifically for the privacy benefits—no colors, just patterns of frosted or textured glass with lead caning—but when the project is completed they are stunned with the beauty of their stained glass window. And the difference it makes to the whole feel of the bathroom as well.
Do you need more privacy in "the loo" but don't want to block the light with shades, blinds, or curtains? You aren't alone. Many bathrooms face right at a too-close-for-comfort neighbor, making some kind of window treatment essential. But most window treatments block the light, darkening the room and making it feel just a bit smaller and more closed in. And who needs to feel claustrophobic in their own bathroom?
Custom stained glass bathroom windows provide a brilliantly lovely solution.
Take a look at some of the glass art we have created for clients bathrooms, and begin to imagine the kind of design or pattern or color or style you might like for yours. By the way, you might think when you hear the word "custom" that our stained glass windows are only for the wealthy, but many of our customers have been relieved and delighted to find they can afford our work, and are adding value to their home at the same time. The price of our stained glass bathroom windows depend on the square footage involved and the complexity of the pattern chosen.
Our main photo gallery contains many striking examples of custom bathroom stained glass that we've already done for delighted clients, but don't allow these examples to limit your imagination in any way, shape or form. If you'd like more color, a different style, perhaps an antique look or a more modern, abstract look, Custom Stained Glass will work with you to bring your vision to life and into your windows.
Just imagine your bathroom window behind the tub, your glass shower enclosure door, and perhaps even the door separating the sink area from the toilet area with matching stained glass panels, complementing and enhancing your décor.
If you find you've been bitten by the stained glass bug, and what started as a need for more privacy turns into a lust for more luscious glass art throughout your home . . . well, don't say we didn't warn you. And if that should happen, you can trust on Custom Stained Glass to provide the highest quality and greatest beauty. Why not give us a call today?