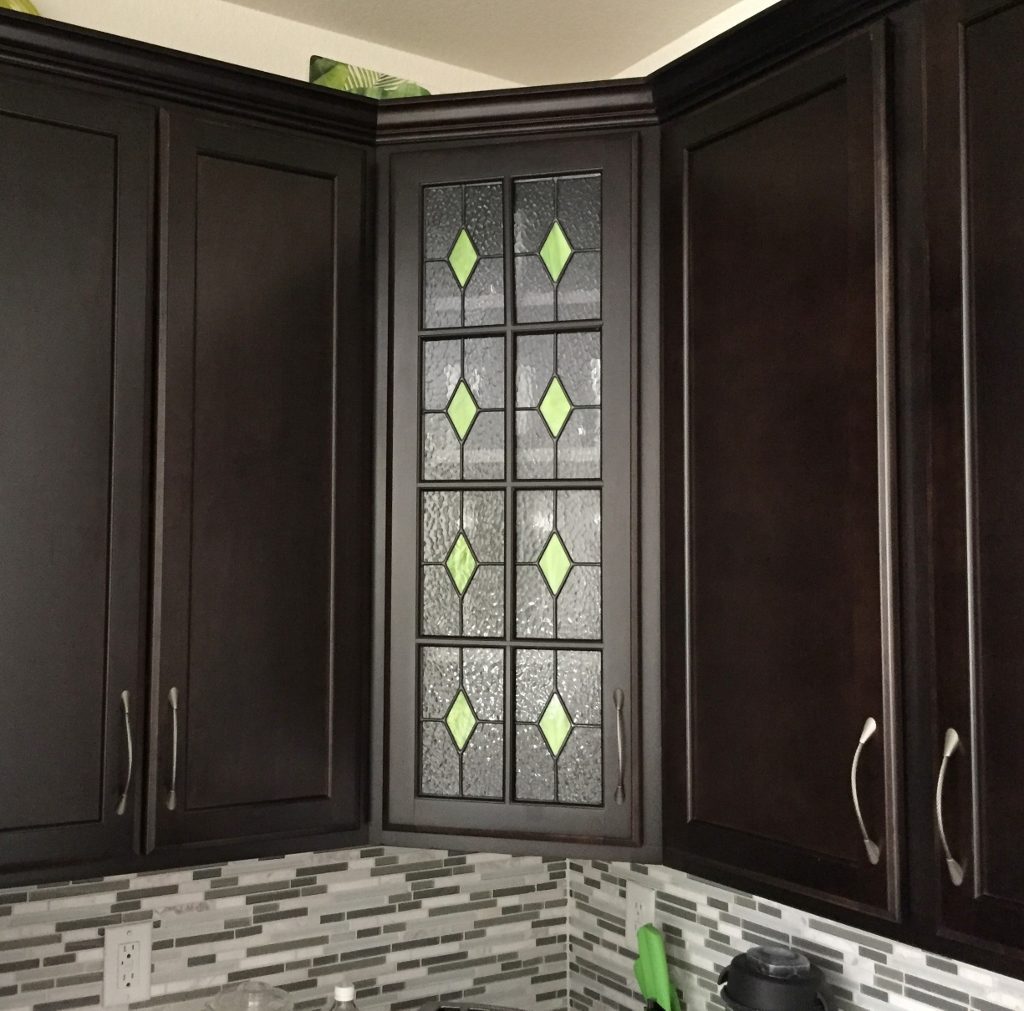 Kitchens are one area that is often overlooked when it comes to stained glass. Although you might get new appliances, new countertops, new lighting, you might even have original art on the walls of your kitchens, it's rare that a homeowner will do anything much with the windows.
But there could be strong reasons, aside from the aesthetic and artistic, to do so. Perhaps your kitchen windows open up to a less than desirable view. Do they face right into a neighbor's home, or a busy street? Do they open into a parking lot? Would you like to block an unappealing view or create more privacy for yourself? Simple! Custom stained glass will add class, uniqueness, a designer feel or perhaps an antique feel, and provide practical solutions at the same time.
Let's face it, stained glass windows are much more beautiful than any shades, blinds or curtains could possibly be. And they have the added advantage of not blocking the sunlight. Like the old song said, "Let the sun shine, let the sunshine in."
What if you have no problem with your kitchen window/s, but a lot of problems with your kitchen cabinets. They are old. Ugly. Worn. Out of date. The finish has faded or scratched off through the heavy use a kitchen receives. And it's simply not in your budget to buy and install new cabinets. When it comes to kitchen cabinets, the fact is that it is always the doors that take the worst abuse.
Here at Custom Stained Glass by Scottish Stained Glass, we can build new cabinet doors with a glass insert, and design the stained glass cabinet doors of your fondest kitchen fantasies.
Just adding stained glass to your cabinets or windows could be enough to give their kitchen a whole new look, not to mention turning your kitchen into one of your favorite rooms of the house. It's already one of the most used, isn't it? Why not make it one of the most unique and beautiful rooms as well?
Custom stained glass can design, build, and install stained glass in any cabinets, windows or doors. (Okay, not steel fire doors, but pretty much all others.) If this intrigues you, if a kitchen makeover is what you've been longing for, you might be interested in this article about a kitchen stained glass project we did that was featured on the TV show, "Rescue Renovations." The homeowners were big fans of the Craftsman style from the American Arts and Crafts movement of the early twentieth century. So we designed stained glass kitchen cabinet doors and kitchen windows for them in the Craftsman style, and the whole kitchen glowed with their simple, elegant beauty.
Since our name is Custom Stained Glass, you won't be surprised to hear that every kitchen stained glass project we do is a custom design. Our panels are built by hand, the glass cut and assembled in much the same way it has been for centuries. But we use the most modern materials and installation techniques, ensuring your stained glass kitchen cabinets and windows are built to last for generations to come. You might have been sick of the sight of your old cabinets, but we'd be willing to bet you will always enjoy looking at your new stained glass ones!