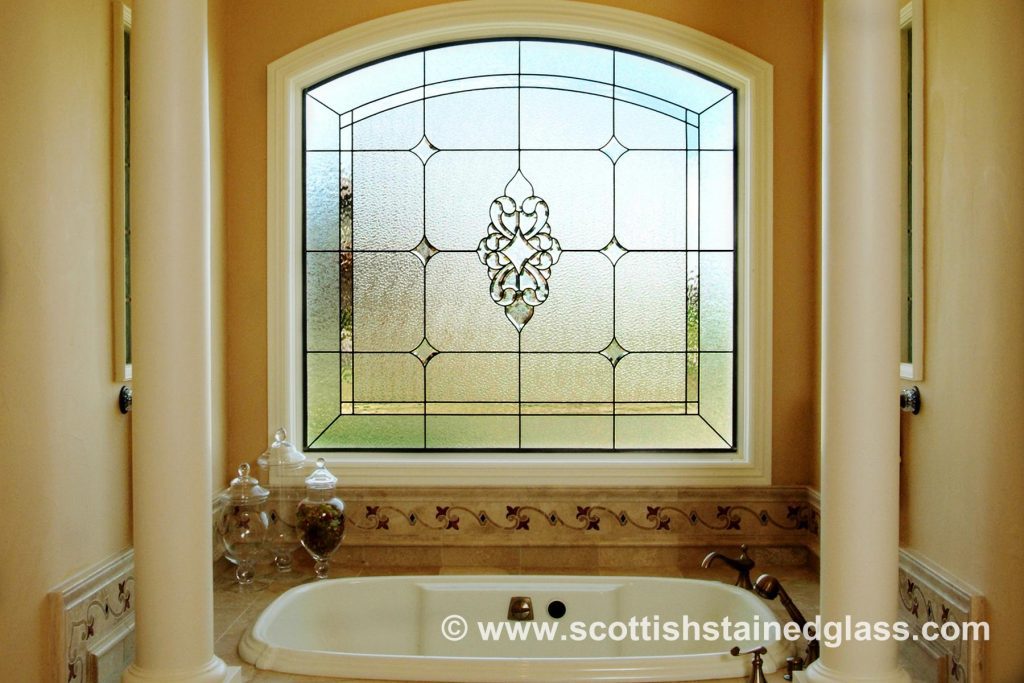 Anyone who is a fan of stained glass knows there are many different types of styles, colors, sizes, and applications. There are stained glass applications for your bathrooms, kitchens, bedrooms, living rooms, offices, well you get the idea.
Custom Stained Glass can design, build, and install stained glass in for any application you desire. If you want stained glass mainly to beautify your home and give it that wow factor, you can choose from hundreds of already existing designs or work with our staff to design your own.
If you are looking for stained glass to give more privacy to your entryway, we would probably recommend clear, frosted, or textured leaded glass for that purpose. And again, the styles and patterns you can choose from are pretty infinite.
We find our clients are always coming up with new stained glass applications for us to consider. We thrive on the challenge! Do you want a stained glass sculpture in your rose garden or stained glass hanging panels around the sides of your deck? Is a stained glass skylight something you've always wanted?
If there is glass, there are stained glass applications for it. But there are also places you might have no glass, such as a pass through between kitchen and dining room, and stained glass will look phenomenal there too.
When it comes to stained glass applications, many people are truly surprised as to how varied they can be. A great case in point is antique stained glass. We have a collection of antique stained glass windows imported from Scotland. They are lovingly restored and really gorgeous. Many would be clients simply assume these windows would not fit in their homes, because their windows are a different size.
They are correct in one way. We could not install one of these antiques into their existing windows unless they both happened to be the same size, by some odd coincidence. But the stained glass application we would recommend would be to turn the antique into a hanging panel. Then it could be hung in front of any larger window with a dramatic and décor enhancing effect.
Another stained glass application many people don't think of is lighting. In fact, stained glass lends itself perfectly to lighting fixtures, including those panels in the ceiling of your basement!
What kind of stained glass applications are you looking for? From the popular to the never-heard-of-before, if you want it, it's our job and our pleasure to design it and build it. If you'd like to schedule a no cost in-home consult with one of our stained glass designers, please contact us today.