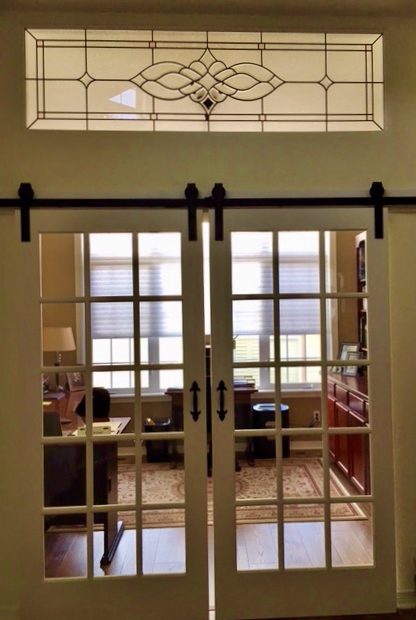 If you have an idea for a stained glass window, door, or other type of panel that you want to bring to life, you will first need to communicate your vision. We might not be able to help you with your vision for Earth's future, but definitely, when it comes to stained glass, we can turn your vision into a stained glass reality. We can create any stained glass style you wish.
And that's why we call it custom!
If you are used to pre-fab stained glass, the kind you might find in a big box store, you are in for a fun and delightful surprise when you dip your toes into custom waters. The sheer variety of stained glass style and pattern will amaze you. When it comes to stained glass style, your style is our style. It's all about your tastes.
Do you love Art Décor, or perhaps Celtic styles such as the famed and ever popular Celtic Knot? Do you admire some of the master architects and craftsmen of old, whose iconic styles remain ever popular? That could be Scottish architect Charles Rennie Mackintosh or American architect Frank Lloyd Wright. Both of these masters used stained glass extensively in their buildings, as an organic part of the design. Their work is so well known and so iconic that they each have their own stained glass style with their name attached.
But those are far from the only stained glass styles available. The fact is, if you can imagine it, and convey your idea, we can sketch it, make a pattern/blueprint for it, and build it. By hand, of course, just like the masters of old did.
Our builders are familiar with many different styles, periods, and aesthetics from the antique to the thoroughly modern. So when it comes to design and style and pattern and color, it comes down to you. What's your stained glass style? What kind of stained glass windows would you love in your entryway? What kind of stained glass cabinet doors would you love in your kitchen? What kind of stained glass would you add to your dining room bay window, or your sliding glass patio door?
Here at Custom Stained Glass, our mission is to create the finest quality, most beautiful stained glass that fulfills your vision and takes your home (or office or other commercial space) to the next level of design. A conversation starter. Perhaps even a family heirloom.
Obviously, our designers work with you in this custom design and building process. They come to your home to collaborate on the design process. Many of our clients tell us it's the most fun part . . . until they get to enjoy their new stained glass windows installed in their homes, that is.
If you are interested in custom stained glass, you've come to the right place. Please give us a call today to set up your free in-home consultation.