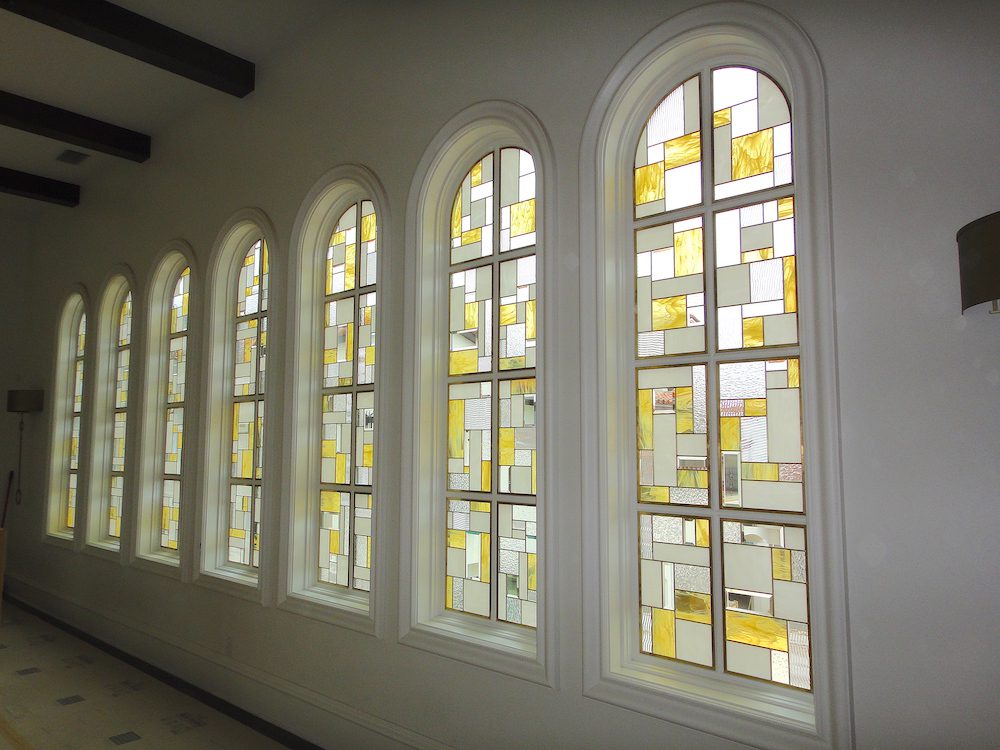 Stained glass often is installed in a single window frame that looks beautiful. However did you know that stained glass can also be installed across several windows to create a bigger picture?
Some homes have two or more windows side by side, or multiple windows stretching across a whole wall of a room. In these windows, designers can piece together designs to create one large piece broken up across several windows. Or they can create the exact same panel for each window.
If you choose to have one design which is broken up and spread out among multiple windows, it will have more of a mural-like feel to it. Of course, you don't want your home to look like a church. This is many people's fear when considering stained glass designs for multiple windows.
But here at Custom Stained Glass, we do many modern designs which will complement your home and not give off any sort of a church-y vibe at all. Our signature Aspen designs are a beautiful option for multiple window stained glass commissions. The finished product can resemble a forest of aspens in your windows, or one tree with its branches stretching out across the room. Can you imagine it in your living room or sun room or dining room?
By the way, there is one place where we do custom stained glass for multiple windows and it always looks phenomenal. We are talking about kitchen cabinet doors! The same ideas apply. You can have the exact same pattern inserted in each kitchen cabinet door, or you can have a pattern designed that runs throughout all the doors.
Take a look at our kitchen cabinet gallery to get some ideas.
The choice is entirely up to you. In fact, when you work with Custom Stained Glass, the choice is always up to you, and that's half the fun of it, don't you think? But let's get back to the subject of multiple windows. Another type of window that sometimes comes in multiples (which looks absolutely amazing with stained glass) is transom windows. You know, those usually non-functional narrow windows that are placed atop other windows, or perhaps near the ceiling of your room? Their purpose is to let in more light and they are an amazing design feature. You can turn them into works of art, and still let the light flow through, with clear or light colored stained glass designs.
Take a look at our transom gallery to get some ideas.
When it comes to finding ways to dress up multiple windows, stained glass is an unusual, unique, and thoroughly elegant solution. If you'd like to find out more, please contact us and set up an in-home appointment today.