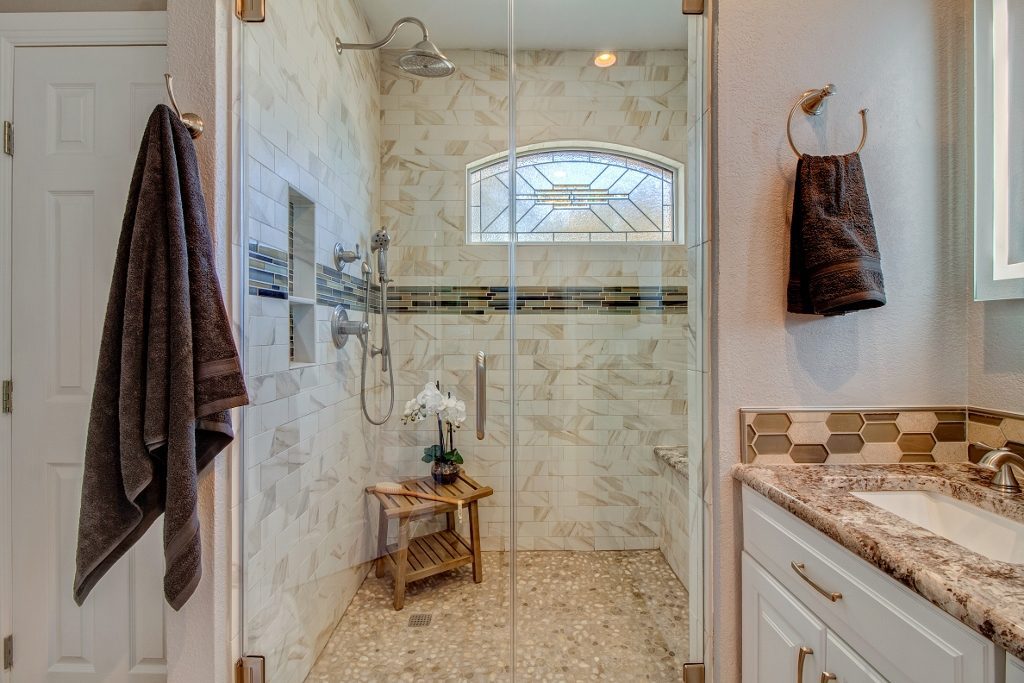 When it comes to creating a bathroom oasis, many homeowners imagine a spa like bathroom with a massive tub and loads of natural sunlight from large picture windows. Although having natural light is appealing, you end up losing the privacy that is such a necessity in a bathroom. Particularly if your bathroom is on the ground floor of your home. And you certainly don't want to cover your picture window with curtains, right? But with the installation of custom bathroom stained glass, you can have the best of both worlds.
Stained glass offers the privacy you need without blocking the sunlight you desire. And it can greatly enhance the overall décor of your room, turning it into a high-end, designer inspired bathroom that you'll be thrilled with every time you walk into the room.
Imagine your bathroom stained glass right now, with the sun shining through it creating dancing rainbow shards of light, or even prisms if you use some beveled glass in the mix.
Here's how bathroom stained glass comes together. First of all, at Custom Stained Glass, each panel we build is just that – custom – designed and built to your specifications and tastes. When we work with you, we'll create the perfect pattern in the exact style you want. A Celtic design? A natural scene like Aspen trees? Something in the style of master architects Charles Rennie Mackintosh or Frank Lloyd Wright? Or something thoroughly unique and modern? You decide on it, we'll build it and install it.
Bathroom stained glass done in frosted or textured glass is the best option for enhancing privacy while letting the light shine through. And when it comes to unifying the décor of the room, remember that stained glass is not just for your exterior bathroom windows. How about your bathroom cabinet doors, or the glass shower enclosure? Or the skylight? If you've got glass, why not consider stained glass. The bathroom is one of the most used rooms in the home and always will be. With bathroom stained glass, you can turn it into a show-stopper too.
For more information about bathroom stained glass or to set up an in-home appointment with one of our design staff, please contact Custom Stained Glass today. We would love to collaborate with you on the stained glass windows or doors of your dreams. And by the way, if you have a high end store or office and you want every part of your commercial space to say success and good taste, please consider some commercial bathroom stained glass.