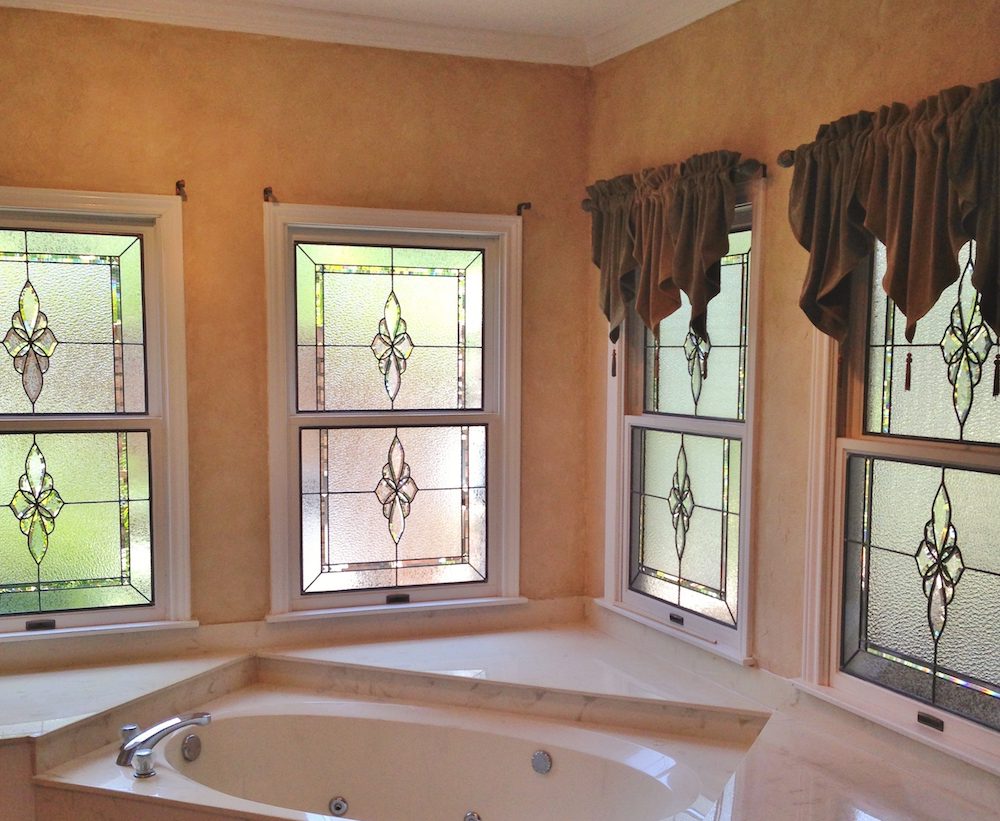 Custom stained glass, Denver customers are discovering, does double duty in their bathrooms, providing beauty and elegance and a much-desired boost in privacy at the same time. And, depending on which type of glass you choose, it can also let in that natural light you love.
Who doesn't like a beautiful bathroom? Many clients tell us it is one of their favorite rooms to decorate, and they love going all out to make the bathroom as interesting and fresh and striking as any other room in the house. So they buy the plushest towels, the matching bathmat, they hand some unique art on the walls . . . but perhaps they need something more. Something that really adds a polished finishing touch.
With bathroom stained glass, Denver homeowners take their bathroom's décor to a whole new, high-end, designer-look level.
And if there are privacy issues, the stained glass solves them beautifully. Many bathroom windows are already made with frosted or some kind of textured glass for privacy purposes. But if you have those windows, you know they can be a bit plain. A bit boring. A bit ugly, even. Why not replace that ordinary frosted glass with some gorgeous, unique, eye-catching stained glass instead?
Click here to see some of the bathroom stained glass Denver clients have commissioned from us in our twenty plus years in business.
In case you are wondering, with our custom designed and hand crafted bathroom stained glass, Denver homeowners have no worries about the moisture or humidity of the bathroom having a damaging effect over time. We use special installation techniques in wet areas that ensure the stained glass is protected and will last for a century or more.
Where would you like bathroom stained glass, Denver? In that big window behind the tub in your master bathroom? In that tiny window in the shower in your old, inner city house? In a lighting fixture in your bathroom? Or how about the bathroom cabinet doors, for a truly unique look?
When it comes to bathroom stained glass, Denver homeowners want it modern and elegant. We can do any style or design, and since each piece is custom designed, we can also do any size or shape.
For more information about our highest quality, custom crafted bathroom stained glass, Denver or anywhere across the state of Colorado, why not give us a call today? We'd love to set up an appointment for you with one of our design professionals. We'd love to help take your bathroom's décor to that next level and give you the privacy you are looking for in one bathroom or all of them.