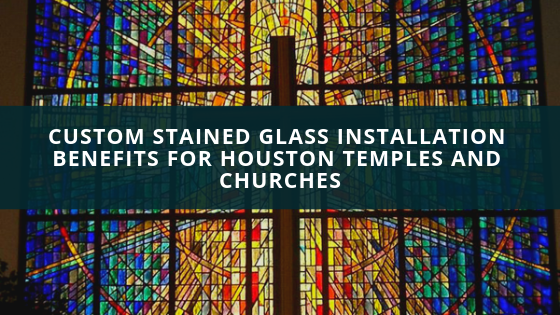 Stained glass windows have a timeless beauty and elegant appearance. Adding custom stained glass to your Houston church or temple is a great way to add character to your church and celebrate your beliefs. Stained glass has been a traditional part of religious architecture for decades. And by adding stained glass to your church, you are carrying on the tradition and creating a name for yourself in the community.
Why Choose Custom Stained Glass?
Stained glass windows can be obtained from a hardware store or a studio that produces handmade glass. Stained glass windows from the hardware store are usually the less expensive option, but they're also mass manufactured. Furthermore, many churches prefer to have a traditional look for their stained glass and hardware stores tend to sell more modern looking pieces. The better option is to obtain stained glass from a studio that creates custom pieces.
Custom stained glass is far more unique than mass manufactured stained glass. When you get a custom stained glass window, you're getting something that is truly one of a kind. The creation you have cannot be found anywhere else on the planet. Just like every snowflake has its own unique pattern, so do custom stained glass windows.
Design Your Own Creation
Another benefit of opting for custom stained glass for your Houston church or temple is that you get to control the look of your stained glass. This means that you get personalize it in every way imaginable, from the colors to the textures and the overall design or pattern. Perhaps there's a specific message from the Bible that your church feels strongly about, or maybe your interior is decorated with a specific color scheme or theme. These elements can all be incorporated into the design with the help of your personal professional designer.
Schedule a Consultation
Bring the beauty and tradition of custom stained glass to your Houston church. Contact our office to schedule a time for a consultation with one of our experts.