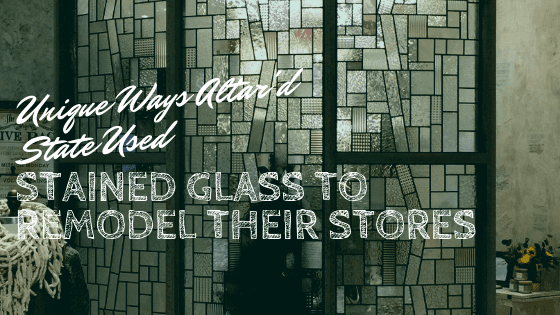 When it comes to remodeling your retail store, many business owners would never consider stained glass. Stained glass is often thought of as a traditional, colorful medium that's only in churches or in your grandma's home. Stained glass is actually quite versatile, offering endless styles, designs, and functions. Modern takes on stained glass really present numerous opportunities for business owners to really improve buyer experience, engage more guests, and heighten property value. Altar'd State, a national retailer, has utilized stained glass in unique ways in all of their new remodel projects.
The Benefits of Custom Stained Glass in Altar'd State Locations
Altar'd State is a faith-based retailer with over 100 locations throughout the nation. They're currently remodeling many of their stores in order to bring consistency through their retail messaging. One of the new features they're incorporating is custom stained glass for a better buyer experience. The leaded storefront features offer semi-privacy while promoting a bright, welcoming feel throughout their store. With custom stained glass features inside as well, customers have the opportunity to really embrace the experience and appreciate the beauty of these leaded features. From stained glass rotundas to stand-alone privacy features, stained glass has added both functionality and statement pieces to Altar'd State locations.
Custom Stained Glass for Your Home or Business
Custom Stained Glass is proud to offer an easy interface for homeowners and business owners to add stained glass features to their property. For more elaborate custom commercial stained glass features, please speak with us directly to work with one our stained glass artisans to create the perfect stained glass design for your business. We'd love to help you create the right investment that draws in new customers, helps retain repeat ones, and enhances brand visibility.
For more information regarding custom stained glass, please contact us!