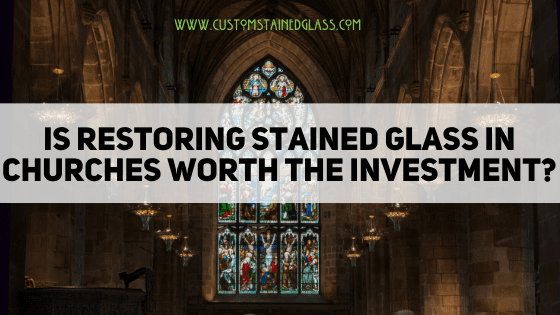 Churches, schools, and homeowners alike come to us here at Custom Stained Glass wondering what their stained glass is worth.  This is a fair question because many stained glass windows are worth money due to age, artist or historical value. While these windows may have increased in monetary value over the years, the fact of the matter is–most are in need of restoration.  And, whatever the window may be worth now–fully restored it will be worth more.
How Does Restoring Stained Glass Increase Its Value?
The idea behind restoring a stained glass window is that stained glass, unlike many antiques, is definitely worth more after it has been restored.  With typical antique restoration is not always a good idea. The state it is in untouched is often more desirable than a renewed one.  The issue with stained glass windows is–the risk of losing them completely due to deterioration is much higher than the risk of having them restored.  Windows built over 80 years ago were only built to last about 80-100 years–therefore the longer the restoration the neglected–the more the windows could lose value.  The issue then becomes not if they should be restored but by who. Because ultimately it is a skilled restoration company that will increase their value through a job well done.
Why To Hire A Skilled Restoration Expert For Your Stained Glass?
Just like any older item–time takes a toll on stained glass.  In order to restore these beauties–it takes a skilled hand. In fact, it is critical to find the very best and experienced when it comes to stained glass restoration.  This is because an improper restoration could damage or destroy your church's stained glass and decrease the value.  
A Skilled and Experienced Stained Glass Company
This is about where we, at Custom Stained Glass, come into play.  We have been doing stained glass restorations for 25 years and have successfully done jobs of all sizes.  We have dozens of stained glass artists who work with us to make sure techniques old and new are applied to  your restoration. This ensures every aspect of the restoration gets done with respect to the original craft but with the benefit of modern technology.  In fact, our stained glass restoration process is the best in the country! We would love to come out and bid on your church stained glass restoration anywhere in the country–for free.  Contact us today for more information and to schedule a stained glass restoration bid.