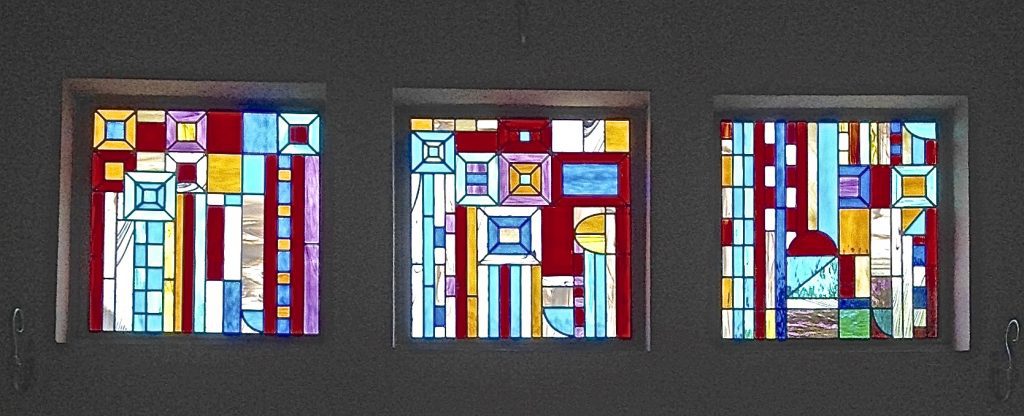 The other day we went to a party in one of Denver's older neighborhoods. The homeowners had been steadily working on renovating and modernizing their home for the past fifteen years, and being that they were both artists, it was a show stopper. Immediately upon walking in the front door, to the left was a small window with an original stained glass panel.
This piece looked old but the glass colors were still vibrant, the heavy lead caning was in good condition, and the seals holding it place were still strong. It set the tone for all the many beautiful artworks in the house. The owner mentioned that he'd love to add more stained glass in other parts of the house to match this original piece, but wasn't sure if that was possible.
He didn't know how easy it is to commission custom stained glass in any size, design or colors for his home.
Custom Stained Glass can design custom works of art to enhance any area of your home. Most people think of stained glass just for windows, but there are many other places where it can add its beauty and value to your home. A panel in your front door, a panel in an internal door (such as the door to your pantry, your wine cellar, or even to an office or bedroom), panels in your kitchen cabinet doors, or even a free hanging panel that can be used in front of a window.
The style, design, size, colors, even whether you want thick or thin caning between the pieces of glass—all of that can be customized to your tastes and what will work in your space. We could easily design matching windows for the homeowner with the one small panel in his entryway. Our designs run the gamut from floral, geometric, art-deco, art-nouveau, Southwestern, Frank Lloyd Wright inspired, and even something you design yourself. Modern, traditional, and anything in between.
If you have a bay window in the bathroom and would like more privacy, custom stained glass might be the perfect solution. If you have a series of transoms across the top of a room, custom stained glass might offer just the design feature you need to really "make" the room complete.
In a sense, all of our pieces are custom stained glass pieces, because we always work to the exact measurements of your windows or doors. You will always work with one of our experienced and highly creative designers, you will always choose the exact design, colors and style that appeals to your taste and complements your décor.
And the cost? It varies based on size, type of glass chosen, and complexity of design. But we think you'll be surprised how inexpensively you can have a custom designed piece of stained glass art in your home. Depending on your location, one of our designers will come out and consult with you, bringing all the design inspiration you could possibly want. Give us a call for an estimate or to set up an appointment today.