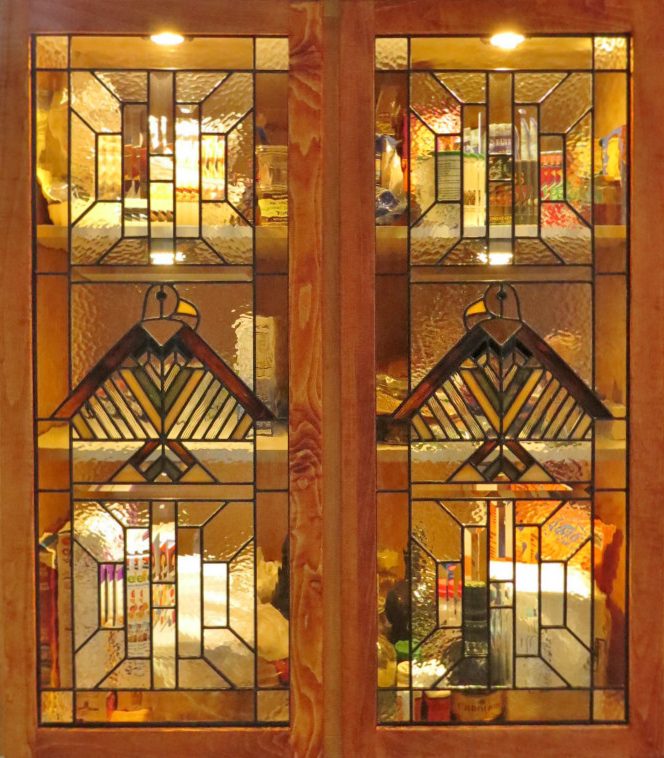 Custom stained glass is all we do. Every single aspect of our design process is customized for your tastes. It all starts with a no-cost in-home appointment with one of our experienced design professionals. We come to you so that we can see the space where the stained glass will be installed and get the exact measurements. We see how you've already decorated, what kind of style you like, and the architecture or period of your home.
In this way, we can make suggestions about the custom stained glass designs that you might love, designs that will really complement your décor or home's period. Once you have decided on the style you want: leaded or beveled stained glass, Art Deco or Art Nouveau stained glass, Celtic inspired stained glass, or even religious stained glass (for a home chapel), we'll create a custom design.
Click here to see the galleries containing the various styles that we work in to create your custom stained glass windows, doors, or other panels. But remember, if you have your own ideas that are different from anything you see in our galleries, we'd love to create those for you as well.
With custom stained glass, you will choose the style, the exact design, the type of glass, the colors, everything that you want. If you want to add privacy while still letting the sunlight in, let us know. We will suggest designs that will do just that. If you want to give a room, perhaps your kitchen, a modern upgraded look without the hassle and expense of a whole remodeling job, let us know. We will suggest custom stained glass designs that will give your room a whole new look.
We can also do custom installation of your stained glass windows. This might mean bonding the new stained glass to the existing pane of glass, sandwiching it between two panes of clear glass (for very wet or humid environments) or even installing the new stained glass as a hanging panel that would be easy to move.
What does custom glass mean to you? If it means a hand-crafted, high quality product that is stunning, adds value to your home, and is the perfect fit for your home and your tastes, then you have come to the right place.
For more information about our highest quality custom stained glass or to set up an in-home appointment with one of our design staff, we hope you will contact Custom Stained Glass by Scottish today. We would love to show you just how beautiful your home can look with the addition of custom designed stained glass windows or doors.